The following Microsoft Office solution cannot be installed due to a general installer error: SlideLizard.vsto 0x8007007E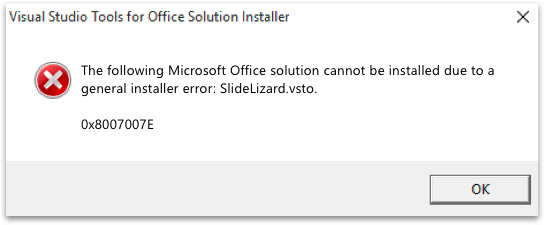 This error happens when your computer is missing a specific Microsoft software package which enables the installation of Microsoft Office Add-Ons.
Solution:
Download & install the required software from Microsoft:  Download Visual Studio 2010 Tools for Office Runtime from Official Microsoft Download Center (this may require Administrator privileges).
Restart the installation of SlideLizard.
---
Your security settings do not allow this application to be installed on your computer
Your administrator has blocked this application because it potentially poses a security risk to your computer.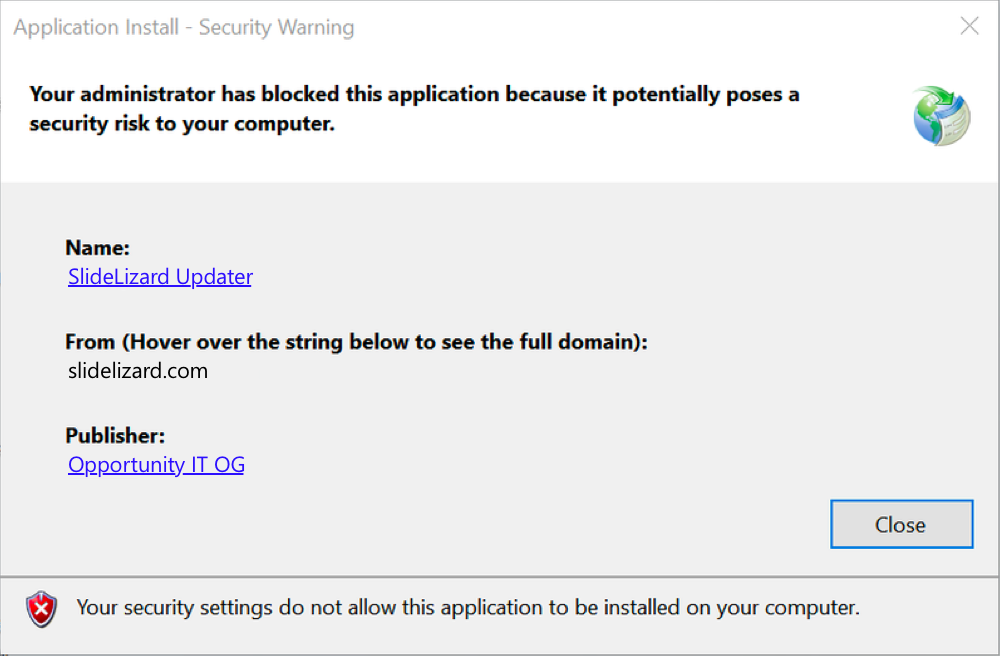 This error can occur if your security settings are different than the Windows standard settings (and therefore do not allow the installation of so-called ClickOnce applications).
Solution:
Download and run (double click) the following file: Fix installation not allowed.

This will adjust your settings to allow the installation. You can find more information here: Microsoft documentation – ClickOnce Prompt Behaviour.
---
Manifest not valid / Invalid Deployment Exception
System.Deployment.Application.InvalidDeploymentException: Exception reading manifest from file:///C:/Users/XXX/AppData/Roaming/SlideLizard/Installer/SlideLizard.PowerPointAddIn.vsto: the manifest may not be valid or the file could not be opened. ---> System.Deployment.Application.InvalidDeploymentException: Manifest XML signature is not valid. --> System.Security.Cryptography.CryptographicException: SignatureDescription could not be created for the signature algorithm supplied. at System.Security.Cryptography.Xml.SignedXml.CheckSignedInfo(AsymmetricAlgorithm key) at System.Security.Cryptography.Xml.SignedXml.CheckSignatureReturningKey(AsymmetricAlgorithm& signingKey) at System.Deployment.Internal.CodeSigning.SignedCmiManifest.Verify(CmiManifestVerifyFlags verifyFlags) at System.Deployment.Application.Manifest.AssemblyManifest.ValidateSignature(Streams)
If you get a similar error to this, you need to allow the installation of ClickOnce applications(for more information check out https://docs.microsoft.com/en-us/visualstudio/deployment/how-to-configure-the-clickonce-trust-prompt-behavior?view=vs-2019).
Solution:
Open the registry editor:

Click Start, and then click Run.
In the Open box, type regedit, and then click OK.

Find the following registry key: \HKEY_LOCAL_MACHINE\SOFTWARE\MICROSOFT\.NETFramework\Security\TrustManager\PromptingLevel . If the key does not exist, create it.
Add the following subkey as String Value, if it doesn't already exist, or otherwise set it to this value:Internet Enabled
Repeat step 3 also for this registry key:
\HKEY_LOCAL_MACHINE\WOW64\SOFTWARE\MICROSOFT\.NETFramework\Security\TrustManager\PromptingLevel

Try the installation again